Winch Assist
The wheelchair winch assist ensures the safe, reliable, and smooth entry of a wheelchair into a suitably modified vehicle. The winch is capable of moving up to 275kgs and is suitable for cars, taxis, vans, and minibuses.
When used in conjunction with a ramp and vehicle-mounted, the winch uses a powered reel-in and reel-out method. It is supplied with a convenient user-friendly remote on a long lead, and offers a standard 3.5-metre belt or an alternative 5-metre length.
The wheelchair winch assist can be customised to complement your specific conversions from minor modifications to full custom design, which we retail through our partners at Allied Mobility.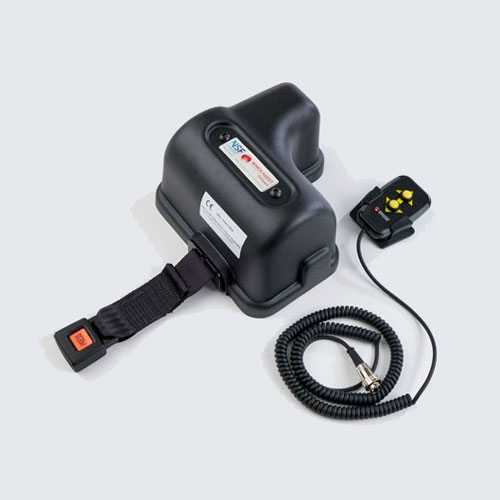 | Specification | |
| --- | --- |
| Alternative belt length of 5 metres available for Long wheel Base applications. | 3 Year Warranty (Terms & Conditions apply) |
| Long-life > 10,000 cycles under full load | Current overload protection and mechanical stop |
| Simple controls | Universal MCF connections |
| Fail-safe Dead man's handle control circuitry | Anti-rollback (Dynamic Braking) |
| Low profile and Compact Design | Easy to install |
| Optional emergency stop with isolator switch and remote wander lead socket | British Standards EN ISO 1750- 1:2010 |
The winch assist meets the following standards and directives in accordance with British Standards EN ISO 17050-1:2010 conformity assessment. Supplier's declaration of conformity and general requirements.
The Machinery Directive 2006/42/EC
The Low Voltage Directive 2014/35/EU
The Electromagnetic Compatibility Directive 2014/30/EU
BS EN ISO 12100-1:2003
BS EN ISO 12100-2:2003
BS EN ISO 14121-1:2007
BS EN 60204-1:2006
BS EN 953:1997
BS EN ISO 13857:2008
BS EN ISO 13849-1:2006
BS EN 14492-1:2006
BS EN 61000-6-3:2007
BS EN 55014-1:2006